Maker Nano RP2040
Product ID: 9160

MPN: MAKER-NANO-RP2040
₹944.00 (Incl. GST)
Estimated delivery between Nov 5 - Nov 15

Quality
First

Awesome
Support

Secure
Checkout
Maker Nano RP2040 with 264kB SRAM and 2MB flash storage has Arduino Nano's form factor with RP2040 SoC. While the pinout is very similar to the Arduino Nano's, there are four (12-bit) analogue inputs rather than eight (10-bit). It has CircuitPython firmware preinstalled.
Description
The Maker Nano RP2040 is a small but powerful MCU. It provides the same Arduino Nano form factor but is powered by a much more powerful RP2040 MCU from Raspberry Pi. This also means that it's compatible with most of the daughter boards for Arduino Nano. Not to forget it's also breadboarded friendly to allow building your own circuit.
The Raspberry Pi RP2040 MCU can be programmed with C/C++ (Natively or with Arduino IDE support), microphone, or circuit python. With massive library support and examples especially in Arduino IDE and circuit python, you will be ready to build your application in no time, be it for learning purposes or for building a useful project.
* The IO voltage is only 3.3V and it's not 5V compatible.
* There are only four ADC inputs (A0 - A3) on the Maker Nano RP2040 instead of eight on the Arduino Nano.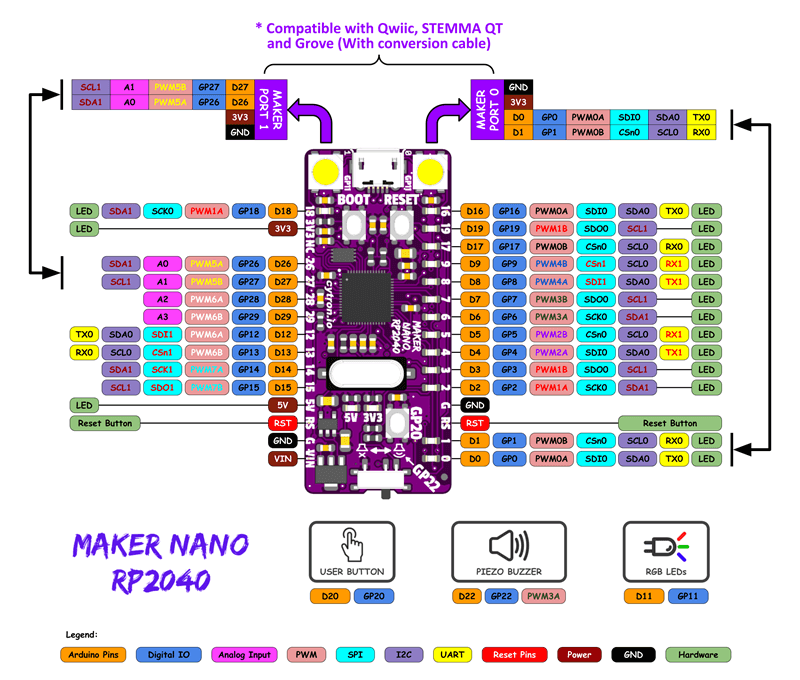 Specifications
Microcontroller: RP2040
Programming Language: Arduino IDE (C/C++), Micropython, CircuitPython
Operating Voltage: 3.3 V
Digital I/O Pins: 22
PWM: 14 (Reassignable Pin)
Analog Input: 4 (12-bit)
UART: 2 (Reassignable Pin)
SPI: 2 (Reassignable Pin)
I2C: 2 (Reassignable Pin)
External Interrupt: 22 (All GPIO)
Flash Memory: 2 MB
SRAM: 264 KB
EEPROM/Data Flash: NA
Clock Speed: 125 MHz (Default)
Power Supply: Vin or USB
Vin Voltage: 7 - 30 V
USB Support: Support USB host and device natively
Programmable LED: 14x at Pin D0-D9, D16-D18
Programmable Push Button: 1x at Pin D20
Piezo Buzzer: 1x at Pin D22
RGB LED (Neopixel): 2x at Pin D11
Maker Port: 2
Dimensions: 49.53 x 21.08 mm (L x W)
Shipping List
1x Maker Nano RP2040
2x Grove to JST-SH (Qwiic/STEMMA QT) Cable
Datasheet
Similar Products