LattePanda Silicone Case
Product ID: 4241

MPN: DFR1627
₹621.74 (Incl. GST)
Estimated delivery between Jun 17 - Jun 23

Quality
First

Awesome
Support

Secure
Checkout
Description
This silicone case is specifically designed for LattePanda development board. Not only using non-toxic and non-smell silicone material (food grade), but also provide a full range of protection structure to avoid damage caused by accidental drop.
It is worth mentioning that the silicone case has some other functions. All interface for external connection has been reserved, and each interface has a clear mark for the function. The hollow-carved design makes it easy to mount the heatsink cooling fan. In addition, this silicone case has static electricity isolation feature and good cold and heat resistance, it can tolerate -40~250℃ working temperature.
Every design details and ingenuity all make it more convenient and durable.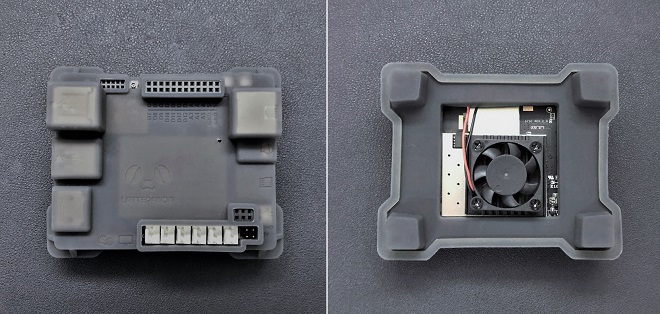 Note:

The Lattepanda development board is not included in the kit.
FEATURES
Compatible with LattePanda
Non-toxic and non-smell silicone material (food grade)
Cold & heat fatigue resisting
Static electricity isolation
SPECIFICATION
Material: Silicone
Heat resistance: -40~250℃
Top enclosure dimensions: 101.2 * 83.2 * 28.2 mm/ 3.98 * 3.28 * 1.11 inches
Lower base dimensions: 97 * 79 * 17.1 mm/ 3.82 * 3.11 * 0.67 inches
Assembly dimensions: 101.2 * 83.2 * 37.0 mm/ 3.98 * 3.28 * 1.46 inches
Net weight (without LattePanda): 60g
SHIPPING LIST
Silicone Case (Top enclosure) x1
Silicone Case (Lower base) x1