DFRobot Gravity IO Expansion Shield for Arduino V7.1
Product ID: 4150

MPN: DFR1009
₹933.26 (Incl. GST)
Estimated delivery between May 12 - May 18

Quality
First

Awesome
Support

Secure
Checkout
Description
IO Expansion shield is one of the market favourites. Fast robotics prototyping made affordable and simple thanks to this design. Soldering and wiring often becomes a problem when a bridged connection happens and components break. Increasing time a costs for projects. Often, without this solution and a soldering station, wire cripping tools or soldering station, robot prototyping or electronics DIY becomes a very long term project.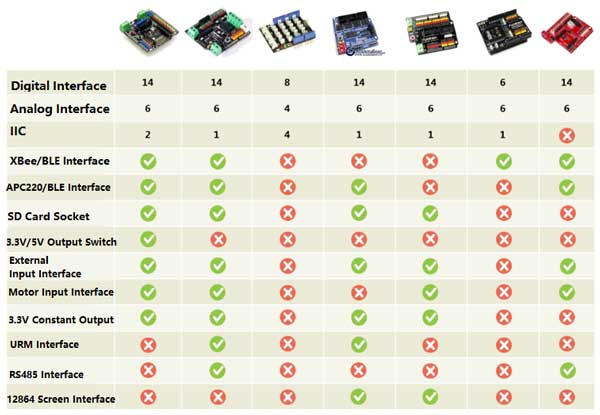 The DFRobot Expansion shield introduced to the market the famous color code for sensors and actuators input and output. The 3 pin format for Signal, Voltage and Ground is extremely useful, specially if used altogether with our increasingly large range of modules, sensors and devices that just fit . 

Alternatively, the board includes power input for salvaged power supplies or laboratory power supplies. Very common Xbee socket for multipurpose wireless connectivity such as RF, wireless, bluetooth. 

The new version includes a voltage hardware setting through a jumper to allow compatibility with a bigger range of components at 3.3v like Raspberry pi, Due and others.

It also includes a Servo external power, with a protective diode. This way you can enable a large range of servos from your Arduino.

Latest version features a convenient switch that lets you program your ATmega328 boards like UNO, while you have another Serial device connected like a Xbee. Switch it, program it and get it back up and running with another switch. You don't need to disassemble your hardware or wiring.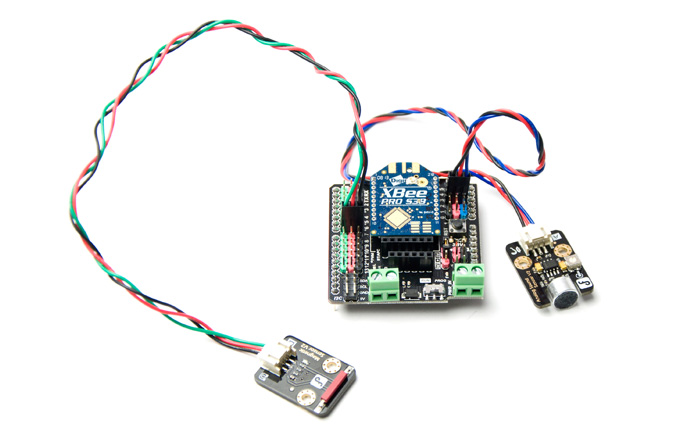 A LED on top board and a reset button is in order to make it just a natural extension to Arduino boards. The LED is connected to pin 13.
FEATURES
Compatible with the new Arduino Due
3.3V/5V operating voltage select
Switch for wireless communtcation & programme
More Easily recognitive interfaces
Colorful header for illustrating digital or analog pins
Immersion gold surface
SPECIFICATION
Input Voltage
7-12V, PWR_IN
4.8-6V, SERVO_PWR, depending on your servo
Compatible module voltage: 5V/3.3V
Support interface: I2C, SPI, Xbee (Xbee pro), Bluetooth, APC220
SHIPPING LIST
IO Expansion Shield for Arduino V7.1 x1
PROJECTS
Project 1. Sunflower - Arduino Solar Tracker
In modern solar tracking systems, the solar panels are fixed on a structure that moves according to the position of the sun. In this project it designs a solar tracker using two servo motors, a light sensor consisting of four mini photocells and Arduino UNO board.
Hardware Components:
DFRduino UNO R3
I/O Expansion Shield for Arduino
DF05BB Tilt/Pan Kit (5kg)
Mini Photocell x 4
Resistor 100kOhm x 4
DFRobot Solar Panel



Project 2. How to make a Heart Rate Monitor
This project makes a Heart Beat Detection and Monitoring System using Arduino that will detect the heart beat using the Pulse Sensor and will show the readings in BPM (Beats Per Minute).
Hardware needs:
Arduino UNO Rev3
I/O Expansion Shield for Arduino
Heart Rate Sensor
ESP8266 WiFi Bee

Project 3. Build KnowFlow: automatic water monitor


KnowFlow is the name of this water quality monitoring device, based on Arduino Uno. It can automatically monitor 5 parameters of water: pH, Temperature, Dissolved Oxygen, Electronic Conductivity, ORP.
Central Control Unit: Arduino Uno (DFRobot Bluno in this case) and Expansion Shield (DFRobot Expansion Shield V7.1 in this case)
Water Sensors: pH (pH probe and pH circuit board); EC (EC probe and EC circuit board); ORP (ORP probe and ORP circuit board); Temperature (temperature probe and temperature circuit board); Dissolved Oxygen (DO probe, BNC and circuit board); real time clock circuit board
Data Storage: Micro-SD module, Micro SD card
Fit and fix: mounting plate, water proof box( 200mm_150mm_75mm), water proof joint
Other parts: Cables (Wires), bread board, bolts and nuts, screws, battery, double-sided adhesive, write on tape, small wrench, spiral cable wrap
Project 4. How to Make An Automatic Water Changing System
Main Components:
DFRduino UNO R3  *1
Gravity: IO Expansion Shield for Arduino V7.1 *1
Gravity: Analog Turbidity Sensor For Arduino *1
Immersible Pump & WaterTube *1
Gravity: Analog pH Sensor / Meter Kit For Arduino *1
Wall Adapter Power Supply 12VDC *1 Solenoid Valve *1
Gravity: Digital 5A Relay Module *1
Water Pipe *2m
Interface (for solenoid valve) *2
I2C 16x2 Arduino LCD Display Module

Project 5. Arduino Project - Make an Arduino Intervalometer For Timelapse Photography
Some SLRs have input jacks built in to them for external triggers or intervalometers for time lapse photography. What the Nikon D40 does have is an IR receiver, designed to be used with a shutter remote. Here is what I used on the Arduino Project:
DFRduino UNO (Arduino Compatible)
Gravity: IO Expansion Shield for Arduino
Gravity: Digital IR Transmitter Module
Gravity:Button Module


Project 6. How to Make an Automatic Christmas Tree
With all the lights and decorations that people use at Christmas, power is left on all the time and electricity bills skyrocket. I made this motion detecting Christmas tree light setup that only turns on when people are nearby.
Hardware list:
PIR Sensor x1
Bluno x1
I/O Expansion Shield v7.1  x1
LED Strip x1
Relay Switch   x1
Mini mp3 module 
DFSpeaker v1.0
Regular power extension lead (with some modifications)
1k resistors x2


Project 7.
How to Make a Santa Alarm
Using the new RGB color sensor available at DFRobot, I rigged up a simple proximity alarm. I can use this to warn me if someone is in a close range of my Christmas tree putting presents under there. The hardware of this project is pretty simple and suitable for beginners.
1 x
Bluno Microcontroller v2.0
(SKU: DFR0267)
1 x
Gesture Sensor
1 x
I/O Expansion Shield v7.1
(SKU: DFR0265) (the extra I/O's are very useful and prevent messy wiring!)
1 x
Digital Buzzer Module
(SKU: DFR0032)
1 x
220R Resistor
(any will do)
1 x
Red LED
1 x
Breadboard
(for prototyping and checking the circuit – any will do.)
Jumper Wires
for connections