DFRobot Gravity: DHT11 Temperature Humidity Sensor For Arduino
Product ID: 4197

MPN: DFR174
₹465.98 (Incl. GST)
Estimated delivery between Feb 14 - Feb 24

Quality
First

Awesome
Support

Secure
Checkout
Description



DFRobot's latest generation of digital DHT11 Temperature and Humidity sensor is as powerful as it used to be but easier to use.  This  DHT11 Arduino temperature and humidity sensor has a full range temperature compensation, low power consumption, long term stability and calibrated digital signal. A high-performance 8-bit microcontroller is integrated in the sensor with calibration-coefficient saved in OTP memory to provide accurate temperature readings.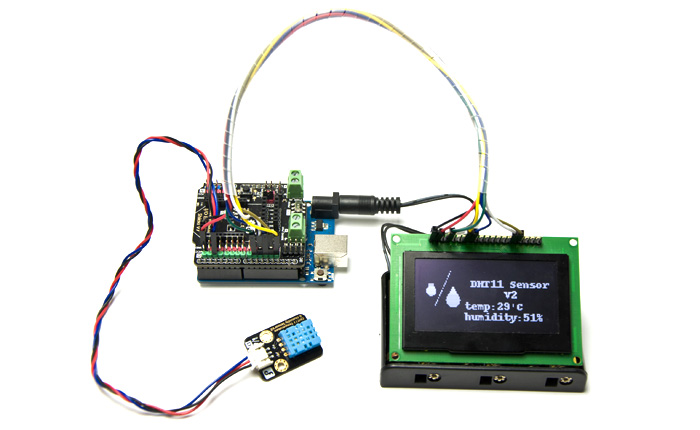 To ease the difficult of using this sensor,  a Gravity Interface is adapted to allow plug&play.  The Arduino IO expansion shield is the best match for this sound senor connecting to your Arduino. As this sensor can work at 3.3V which make it compatible with Raspberry Pi, intel edison, joule and curie. 
  
FEATURES
Standard assembling struct ( two 3mm holes with multiple of 5cm as interval ).
User-friendly interfaces ( "A" for analog and "D" for digital ).
Icons to simplely illustrate sensor function.
High quality connector.
Immersion gold surface.
SPECIFICATION
Wider voltage range: 3.3V to 5V
Temperature range :0-50 °C error of ± 2 °C
Humidity :20-90% RH ± 5% RH error
Interface: Digital
SHIPPING LIST
DHT11 Temperature and Humidity Sensor    x1
PROJECTS
XHOUSE PROJECT BY MAURICE
SHIPPING LIST
DHT11 TEMPERATURE AND HUMIDITY SENSOR    X1
PROJECTS
DHT11 Temperature and Humidity Sensor    x1

Projects Project 1. DFRobot AutoEco System takes care of your garden.
By following this project it will help to grow a vegetable garden, and automate some other processes in our house along the way.
List of basic hardware to setup an AutoEco Sys:

Project 2. Hyduino - Automated Hydroponics with an Arduino
hydroponics is growing plants without the use of a traditional dirt medium by using a nutrient rich water solution. This is especially great for those people that that have limited areas in their backyard to grow in.
Hardware list:

Regular Pump
12V Solenoid Valve
Grow Lights (mine are LED)
Sockets for Grow Lights
3.2" TFT LCD Shield + Touch Screen (usually has an SD card reader on the back of it)
Water Level Sensor Float Switch (2)
I2C RTC DS1307 AT24C32 Real Time Clock Module
9V and 12V Power Supplies
Hydroponics Pots (I'm using 10 - 3" pots for this)
1" PVC Pipe and Fittings + Drain Pipe and Fittings
Similar Products